Design, Analyse and Optimise your screw machines with the industry leading analysis software SCORGTM.
DESIGN
Rotor Profile Design
Importation and manipulation of rotor profiles from point coordinate files, scanning of the rotor geometry which can be obtained in SCORG by profile generation or extracted form CAD.
Geometry Analysis
Calculation and graphical representation of the working chamber volume, areas of the inlet, outlet and other ports and leakage areas between the working and neighbouring chambers.
3D Grid Generation
Calculation of the computational numerical grid of moving rotor domain and stationary inlet and outlet domains which are supplied to commercial CFD solvers for analysis.
ANALYSIS
Multi-Chamber Thermodynamics
Geometric analysis of flow features and preliminary performance analysis using multi-domain chamber model. Thermodynamic results can be used as initial conditions or boundary conditions for CFD, Structural Analysis by Finite Element Methods (FEM) or Fluid solid interaction (FSI)
CFD Performance Calculation
Allows accurate CFD performance prediction using commercial CFD codes such as Simerics MP+, ANSYS CFX, ANSYS FORTE, ANSYS FLUENT, STAR-CCM+ and open CFD codes such as OpenFOAM.
OPTIMISATION
System Analysis
A GT-Suite system model can be used for design optimisation using a direct coupling with GT-Suite Thermodynamic Solver
All SCORG parameters can be passed to the optimisation algorithm for analysis
Optimised Rotor, Housing and Port CAD can be exported as STEP, IGES or STL.
CFD Analysis
Rotor and Port geometry can be optimised using the CFD Analysis. Fast CFD Grid generation can be used for improving and virtually testing various parameters of the Rotor design as well as Ports and operating conditions such as in oil injected compressors.
Advantages
User friendly and fast Graphical User Interface
Fast and reliable industry leading grid generation
Direct link to CFD solvers
Multi-chamber performance prediction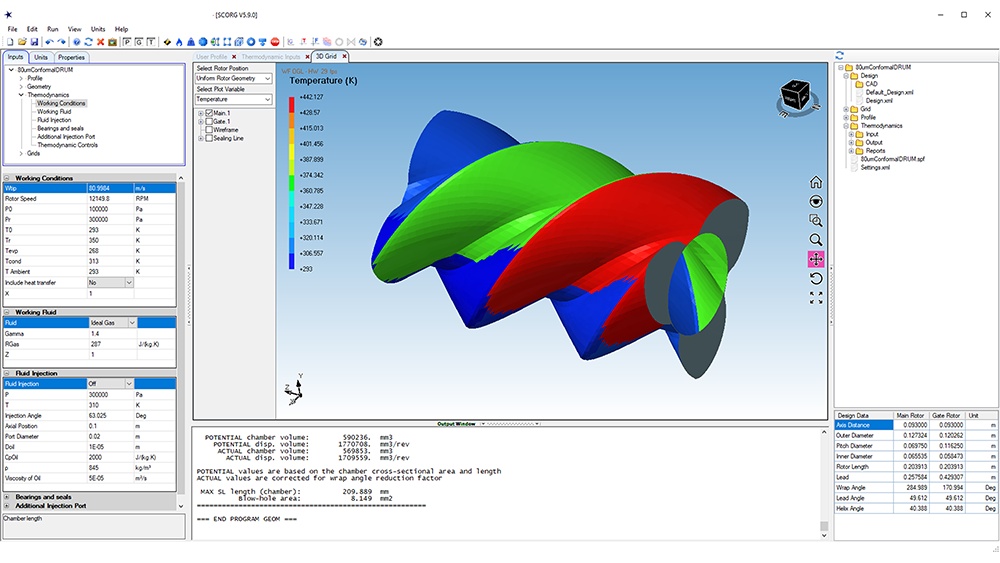 Applications
For design, grid generation and analysis of variety of positive displacement screw machines (single or multi rotor) including:
Compressors
Screw compressors
Internally geared compressors
Vane compressor
Pumps
Twin Screw pumps
Gear pumps
Gerotor pumps
Vane pumps
Rotary pumps
Progressive cavity pumps
Internally geared pumps
Motors
Screw motors
Vane motors
Superchargers
Expanders
Twin Screw expanders
Internally geared screw expanders
Vane expanders
Supported Solvers
SCORG's intuitive and user-friendly GUI allows easy pre- and post- processing with a direct link to the following CFD and multi-physics solvers:
Who can benefit from it
Screw machine design engineers
R&D functions in companies involved with screw machines
Manufacturers of screw machines
Technical or business advisers or developers for companies in related sectors
University teachers or researchers in positive displacement screw machines
Students working on projects related to screw machines
Testimonials
I am currently using SCORG for my PhD on screw compressors for water as a refrigerant (R-718). The thermodynamic analysis of screw compressors is very challenging without proper tools. SCORG has enabled me to do thermodynamic calculations of screw compressors in a matter of minutes. The setup of an operational model is very intuitive and is very well explained in the handbook and the detailed workshop videos. Thanks to SCORG I can now focus on the actual challenges of screw compressors for R-718.

Thomas Mösch - Research Associate at Technische Universität Dresden
The makers of SCORG really know screw machines inside and out, and their software provides top-notch insight into the thermodynamic behavior of these machines. They provide seamless integration with GT-SUITE software for multi-physics applications from pulsations, muffler design, bearings, and surrounding systems.

Jon Harrison - Staff Engineer at Gamma Technologies LLC
Here at OMIQ, we are specialised in vertical solutions for the virtual design of flow components. When a customer asked for the possibility of calculating a screw pump, we immediately thought about SCORG. And we were right! The tool is friendly, quick to learn and provides all the relevant design information. It also generates high-quality meshes for our main CFD simulation tool, SimericsMP. Overall, a very productive and fruitful experience.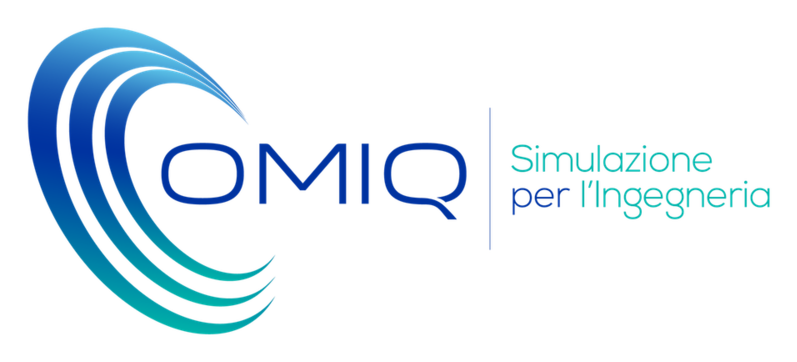 Federico Monterosso - Sales Director at OMIQ
SCORG software is a valuable tool for anyone designing positive displacement screw compressors. Aside from the capability to generate complex CFD meshes, the lower-order thermodynamic model and related calculation tools provide everything needed for the basic design and performance evaluation of screw compressors. The team at PDM Analysis are very supportive and this is reflected by the new features and improvements introduced in every new release.

Dr David Buckney - Chief Engineer at Mayekawa UK Ltd.
We started using SCORG in 2018 to improve the quality of fluid-dynamic design of screw compressors. Both thermo and mesher modules of SCORG are great and powerful tools to help screw compressor designers and CFD analysts to improve the performances of the product, shortening design time and lowering costs for new product development and verification.

Luigi De Franco - Senior Mechanical Engineer, Head of fluid - dynamic design and CFD calculation office - R&D department at Termomeccanica
Early on Professor Kovacevic helped me learn and use SCORG. It has become and valuable tool that is used at Trane for creating meshes for screw compressor CFD analysis. I have been using SCORG for several years and it has helped Trane to create several different screw compressors designs. I have also presented several times at City University during the short course about how I have used your tool.

Scott M. Branch - Senior Compressor Design Engineer & the SME on screw/scroll compressor CFD analysis at Trane
For approximately one year, I have been using SCORG multi-chamber thermodynamic modelling for design review and optimisation. Various projects have been modelled in this time, including oil-injected and oil-free machines. I can thoroughly recommend SCORG as a design tool. My preferred method of working is to use Scorpath for rotor profile optimisation, tooling, and CAD modelling, then importing the profiles into SCORG for performance evaluation and optimisation of the complete design. After verification, it is easy and cost-effective to apply virtual testing of a proposed design by simply changing the input conditions. I find it hard to imagine a screw compressor design without using SCORG now.

Graham Stupple - Development Engineer at Jäcklin GmbH
SCORG is a very professional software. We mainly use it to generate the grids for screw pumps.

Shuaihui Sun - Associate Professor at Xi'an University of Technology
As a part of our development process, we use SCORG mainly for the discretisation of the fluid domain and obtaining pressure and temperature information which is a challenge because of the moving mesh conditions of screw rotors. Once this information is obtained, a Computational Fluid Dynamics (CFD) and structural analysis is carried out for design validation for customised solutions. SCORG has not only made contributions at the design level but also during the analysis of root cause finding for some of the failures. This was done by simulating actual operating conditions in SCORG and finding out the localised thermally stressed regions within the compression chambers. After we were introduced to SCORG, it has become a standard tool we use in our company to analyse the performance of our screw compressors.

Suraj Abdan - Manager, Design and Development, Air Compressor Division at Kirloskar Pneumatic Company Limited, Pune, India
SCORG is groundbreaking software that solves complicated shape mesh issues and provides robust and stable CFD simulations. And above all, the technical support by experienced experts is very dependable for our research and development.

Yuichiro Abe - Engineer at MAYEKAWA MFG. CO., LTD.
Beijing Hikey Technology is a CAE industrial software provider founded in China over 20 years. We have cooperated with the energetic and productive PDM Analysis team for many years. Their tool, SCORG, is a professional software for profile analysis and mesh generation of screw machines. We appreciate PDM's professional support during past years!

Mandy Zhao - Business Operation Manager at Hi-Key Technology Corporation Ltd
My journey with SCORG has been very interesting as I have been able to see how parameters affect the analysis both visually and graphically. It has helped me to grasp the complex working components of a screw compressor and is a useful tool for a graduate engineer, who is new to the Screw compressor industry.

Lihini Seneviratne - Graduate Engineer at Mayekawa UK
I have been using SCORG for various projects at Carrier for a couple of years. We rely on SCORG for creating screw rotor profiles, evaluating the performances of the profiles, and generating rotor meshes for CFD simulations. Surprisingly, SCORG can generate 3D meshes with very accurate clearances. This has enabled us to capture the pressure pulsations in sound predictions very well. SCORG has already played a very important role in our design procedure for screw compressors. As a long-time user, I love it!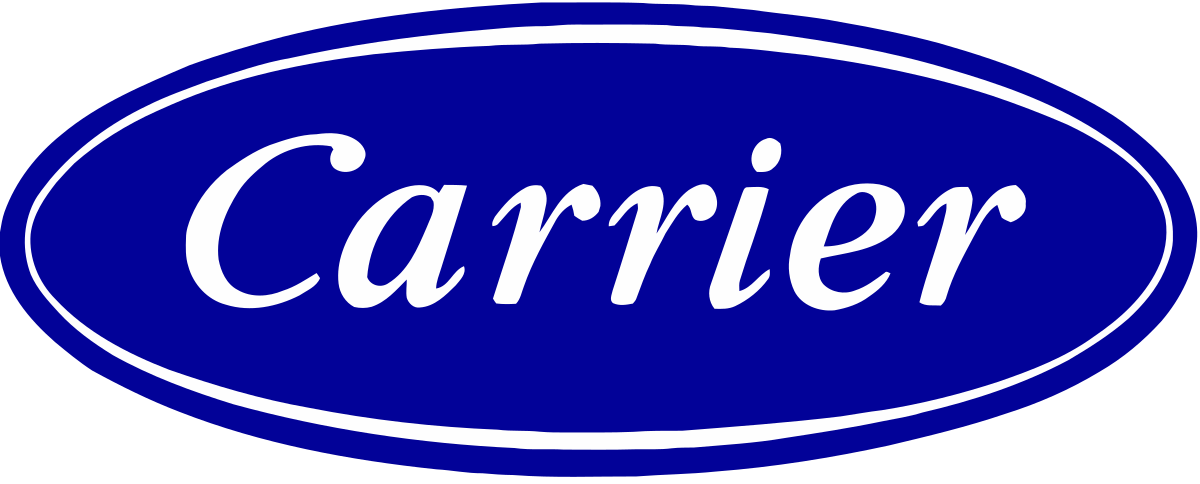 Shawn Chen - Staff Engineer at Carrier