PDM Analysis Industry Trailblazer
PDM Analysis, an industry trailblazer, specializes in improving screw machines through smart design, thorough analysis, and effective optimization techniques, all made possible by our innovative SCORG software. This software is tailored specifically for positive displacement rotary machines, such as screw compressors, pumps, motors, and more.
The roots of this software go back to the skilled team at the Centre for Compressor Technology at City, University of London. In 2014, PDM Analysis was founded to further develop and share this technology. Our strong partnership with the Centre keeps us at the forefront of software evolution.
Since our inception, we've been dedicated to helping both industry professionals and academics. Our clients include screw machine design engineers, R&D specialists, manufacturers, advisors, professors, researchers, and students working on screw machine projects. We've also built global partnerships and collaborated with leaders in Computer Aided Engineering (CAE).
The satisfaction of SCORG customers and distributors is deeply rooted in PDM Analysis' unwavering dedication to the ongoing enhancement and evolution of SCORG. We wholeheartedly embrace change, readily adopting emerging industry trends and technological advancements to ensure that SCORG retains its esteemed position as a premier software tool for positive displacement machines within the industry.
A prime manifestation of our innovative spirit and continuous progress is epitomized by the introduction of SCORG alto. This cutting-edge offering takes the form of a cloud-based solution tailored for the design and analysis of positive displacement screw machines. Through SCORG alto, the well-regarded SCORG software. can now be accessed remotely via Microsoft Azure cloud infrastructure. SCORG alto brings forth intelligent features benefiting individuals and organizations alike, affording the flexibility to seamlessly enter and exit license agreements every week. The registration and licensing procedures are streamlined for swift and effortless convenience. Furthermore, the incorporation of Microsoft Azure's inherent services assures the utmost safeguarding of our data, aligning seamlessly with our commitment to sustainable practices – a commitment mirrored by Microsoft's pledge to achieve 100% renewable energy-powered cloud data centers by 2025.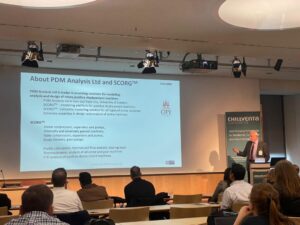 Testimonials from SCORG users
The greatest attestation to our success is by far the praise we get from our customers and SCORG users.
"Here at OMIQ, we are specialized in vertical solutions for the virtual design of flow components. When a customer asked about the possibility of calculating a screw pump, we immediately thought about SCORG. And we were right! The tool is friendly, quick to learn, and provides all the relevant design information. It also generates high-quality meshes for our main CFD simulation tool, SimericsMP. Overall, a very productive and fruitful experience." – Federico Monterosso – Sales Director at OMIQ
"SCORG software is a valuable tool for anyone designing positive displacement screw compressors. Aside from the capability to generate complex CFD meshes, the lower-order thermodynamic model and related calculation tools provide everything needed for the basic design and performance evaluation of screw compressors. The team at PM Analysis is very supportive and this is reflected by the new features and improvements introduced in every new release." – Dr. David Buckney – Chief Engineer at Mayekawa UK Ltd.
We Keep Scorg Green!
Industries across the board are consistently exploring ways to enhance their environmental friendliness. At PDM Analysis, we are resolute in our intention to continually enhance both SCORG and SCORG alto, positioning them as integral tools in the pursuit of the formidable NetZero 2050 objectives. Leveraging the SCORG software empowers users to optimize machinery and elevate energy efficiency, a crucial stride towards a greener future.
The trajectory of fluid machinery holds a promising and radiant future, a notion that gained endorsement at the COP 26 Summit in Glasgow in November 2021. PDM Analysis is steadfastly committed to this cause, recognizing its gravity and our role within it.
Moreover, PDM Analysis is deeply entrenched in fostering the sustainable progress of the compressor industry through our involvement in City, University of London's research endeavor, aptly named Project SECRET: Smart Energy Efficient Compression – Reliability and Energy Target. This collaborative undertaking, backed by both the Royal Academy of Engineering and Howden, a compressor manufacturer based in Glasgow, seeks to curtail losses in the next-generation oil-free compressors by an impressive 20%.
Aside from focusing on a new generation of efficient and reliable oil-free machines, PDM Analysis is looking to expand into vacuum technologies. By adapting SCORG, we hope to provide the same analysis and design services to improve the efficiency of vacuum pumps alongside screw machines.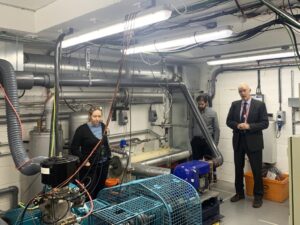 Looking ahead
We are proud to announce our sponsorship of the 13th International Conference on Compressors and their Systems, in collaboration with the Centre for Compressor Technology at City, University of London. This significant event is scheduled for September 11-13th, 2023, and will serve as a platform for in-depth discussions on advancements in air, gas, and refrigeration compressors, vacuum pumps, expanders, associated systems, and components. Participants will include compressor and expander manufacturers, control system developers, equipment suppliers, end-users, and research institutions.
As our reputation flourishes and the demand for SCORG software continues to rise, PDM Analysis anticipates a forthcoming challenge – upholding the remarkable standards that have established SCORG as a frontrunner in the market. Bolstered by our impressive track record, we have unwavering confidence that this endeavor will be triumphantly met. The name PDM Analysis is poised to resonate even more prominently in the years ahead.
For more information, feel free to contact us at marketing@pdmanalysis.co.uk.
To stay up to date with PDM Analysis, follow us on LinkedIn here and Twitter here.
The original article was posted in EASY Engineering magazine. You can read it here.