We have the pleasure of announcing that PDM Analysis Ltd has won the Innovation & Excellence Award for 2021 as a Most Innovative in Compressor Technology.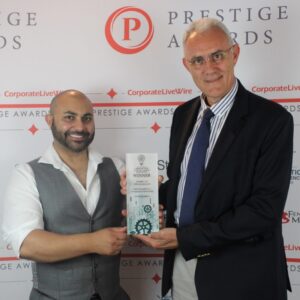 Many thanks to everyone for supporting our businesses!
PDM Analysis Ltd develops, markets and supports SCORG™ – specialised software for the design and analysis of positive displacements rotary machines including screw compressors, expanders and pumps as well as gear pumps, G-rotor and rotary vane machines. SCORG was originally developed by the world-renowned Centre for Compressor Technology which specialises in the design of screw machines for the industry with over thirty years of experience at City, University of London. In 2014 PDM Analysis Ltd. was appointed to continue developing and commercialising this software.

SCORG is an essential tool that enables engineers to design and analyse positive displacement machines quickly and accurately. The software is constantly refined and updated based on the latest research findings from the partnership with City and by listening to the requirements from customers.
There are two main objectives which PDM Analysis Ltd has to support constant development of screw machines to reduce environmental impact and increase the profitability of our customers:
continuous implementation of latest findings from the fundamental and applied research generated from our partnership with City in our software and
ensuring easy access of our software and knowledge to the OEMs, consultants, researchers, educators and students.
As an example of the aims to provide easy software access to industry, in 2020, we developed a cloud-based platform, SCORG alto, which allows the use of our well-known software SCORG remotely on Microsoft Azure cloud machines. SCORG alto inherently enables smart functionality for both individuals and organisations, giving them the option to opt-in and out of licence agreements on a weekly basis. The registration and license approval processes are quick and easy. With built-in services in Microsoft Azure customers can rest assured that their data is completely protected. This is in line with our commitment to sustainable modes of working. Microsoft's cloud data centres will be powered by 100% renewable energy sources by 2025.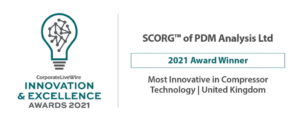 The judges were impressed with the company's commitment to improving the sustainability of compressor technologies, regularly assessing the efficiency of compressed air energy storage (CAES) in order to reduce their carbon footprint. Meanwhile, a successful partnership with Gamma Technologies has allowed for seamless integration between SCORG and the leading CAE product GT-SUITE. This offers advanced simulation capabilities for screw machines, leading to a reduction in the number of design iterations, thus shortening the time to market and ultimately reducing greenhouse gas emissions.
For more information regarding our tools and services that can enhance the efficiency of your business, please contact us.