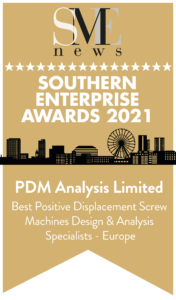 PDM Analysis has recently won Best Positive Displacement Screw Machines Design & Analysis Specialists – Europe 2021 in the Southern Enterprise Awards by SME News.
SME News by AI Global Media draws on the UK wide network of industry insiders to provide readers with the latest news, cutting edge features and latest deals from across the UK SME landscape.
We are hugely grateful for our team commitment and their hard work that have allowed us to continue the development of our products and services, to help engineers achieve better results in their projects.
At PDM Analysis, we believe that the future of rotating fluid machinery is bright and promising, which was endorsed in COP 26 and held in Glasgow in November this year. Furthermore, we are planning to continue the development of our software SCORG, which will help reach challenging targets for NetZero 2050. One of the examples is SCORG alto, the cloud computing tool for designing and analysing screw machines. Furthermore, we will continue implementing AI in the software and machines to bring more benefits for our users. 
To find out more or discuss your requirements with award-winning specialists, click here.