We are proud to announce that we have been awarded as the Most Innovative Compressor Technology by the Corporate LiveWire Innovation & Excellence Awards 2020!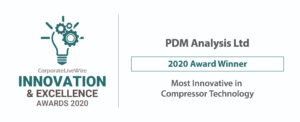 Corporate LiveWire has identified the pioneers, ground-breakers, trailblazers and out-of-the-box thinkers of the corporate world for the Innovation & Excellence Awards 2020. The judges have taken multiple aspects of success into account when choosing their winners, ranging from marketing strategies to eye-opening insights.
We are very proud that SCORG is widely accepted as the leading solution for the design of screw machines and that it has been used in almost all corners of the world. Our next target for this spring is to allow wider use of SCORG on virtual machines. With our partner organisation City, University of London, we will continue to support our customers and advance compression technologies of the 21st century.