A Recap of the 6th Short Course
The 6th Short Course on Computational Fluid Dynamics (CFD) in Positive Displacement Machines was nothing short of a whirlwind of knowledge, innovation, and networking. Held on the 9th and 10th of September at the prestigious City, University of London, this event proved to be an invaluable opportunity for professionals, students, and researchers alike. We'll take you through a Recap of the 6th Short Course highlights.
Unlocking New Horizons in CFD
The event kicked off with a resounding invitation to elevate our expertise in CFD in Positive Displacement Machines (PDMs). Attendees were greeted with the promise of gaining insights, expanding their learning, and building valuable connections. The event, after all, was dedicated to new methods and advanced topics in the application of chamber models, 3D CFD, and experimental techniques in PDM.
A Gathering of Minds
Engineers, engineering managers, specialists from various industries, students, researchers, and educators converged at this forum. The event proved to be a melting pot of ideas, experiences, and expertise. It was an excellent opportunity to share knowledge and discuss the latest developments in the field.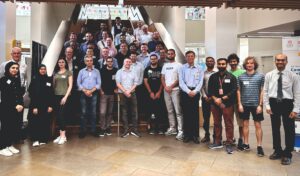 Meet the Experts
One of the highlights of the short course was the presence of leading scientists and researchers from both industry and academia. These luminaries delivered engaging presentations, providing attendees with a unique opportunity to gain insights into new technologies and the cutting-edge techniques used in modeling PDMs.
Experts from the industry and academia included:
Exploring New Frontiers
The course delved into various aspects of CFD in Positive Displacement Machines, covering a wide range of topics:
Advances in Simulation Tools: Attendees learned about the latest developments in grid generation, CFD tools, and open-source CFD solvers. These innovations have the potential to revolutionize the way we analyze and design PDMs.
Emerging CFD Methods: New CFD methods like Lattice Boltzmann Methods, Smoothed Particle Hydrodynamics, and Mesh-Free Algorithms were discussed. These techniques open up exciting possibilities for more accurate and efficient PD machine analysis.
Complex Modeling: The course addressed the challenges of modeling leakage flows, conjugate heat transfer, and the accuracy of multiphase flow calculations. Participants gained insights into predicting clearance gap sizes during operation, a crucial aspect of PDM design.
Fluid-Structure Interaction (FSI): Attendees explored advances in chamber modeling and the application of modern FSI computations. This knowledge is essential for optimizing the performance and reliability of PDMs.
Experimental Techniques: The event didn't just focus on simulations; it also covered experimental techniques for analyzing PDMs. This hands-on knowledge is invaluable for those working in the field.
The use of SCORG and SCORG alto and how they contribute to both academic research and industry improvements.
Secure Your Educational Journey
As the event concluded, attendees left with a treasure trove of knowledge and newfound connections in the world of CFD in Positive Displacement Machines. If you missed this year's short course, don't worry. Keep an eye out for future opportunities to participate in this educational journey.
Whether you're an industry professional looking to stay updated with the latest advancements or a student eager to delve into the world of CFD, events like these offer a platform to learn, grow, and connect. Be sure to visit the event website for updates on upcoming short courses and forums. Until then, keep exploring the fascinating world of CFD in Positive Displacement Machines!
Up next, the 13th International Conference on Compressors and their Systems, in collaboration with the Centre for Compressor Technology at City, University of London.
To stay up to date with PDM Analysis, follow us on LinkedIn here and Twitter here.