Grid generation module enables the flow domain around screw rotors to be divided in subdomains which describe entire geometry of the screw machine.
Grid generation process breaks the geometry in the series of 2D domains from which numerical mesh is generated for every position of the rotor.
The interface employs a novel procedure to discretise rotor profiles and to adapt boundary points for each particular application. An analytical transfinite interpolation method with adaptive meshing is used to obtain a fully structured 3-D numerical mesh, which is directly transferable to a CFD code. This is required to overcome problems associated with moving, stretching and sliding rotor domains and to allow robust calculations in domains with significantly different ranges of geometry features.
SCORG prepares a numerical mesh of the domains in the vicinity of the rotors for 3-D flow and structure analysis.
The 3D numerical mesh for each rotor domain is constructed from a number of parallel 2D numerical grids along the rotor length which are positioned at a distance to each other. The structure of the mesh is shown in the figure below.
Using commands in the Grid module user can select a CFD solver to be used for calculations; Pre-processing files specific for that solver can be generated. Depending on the solver, rotor grids in all cross sections can be calculated in advance. In addition to the rotor domain grids, tools are also available to generate theoretical suction and discharge port grids which are very useful if a full design of screw compressor in CAD is not available. Inputs into the grid module are listed in the diagram below on left while the results which could be presented in the textual or graphical form are shown on right. For further details and use of the Grid generation functions See More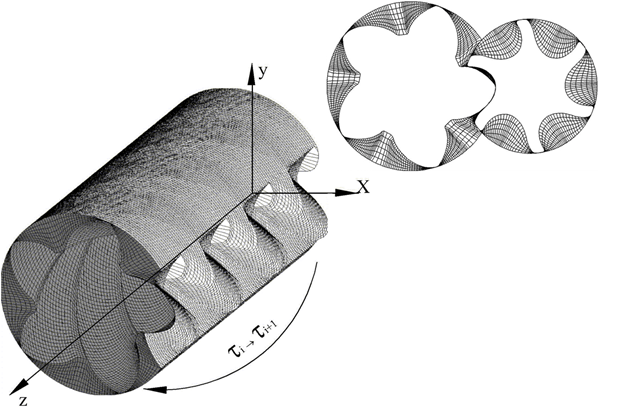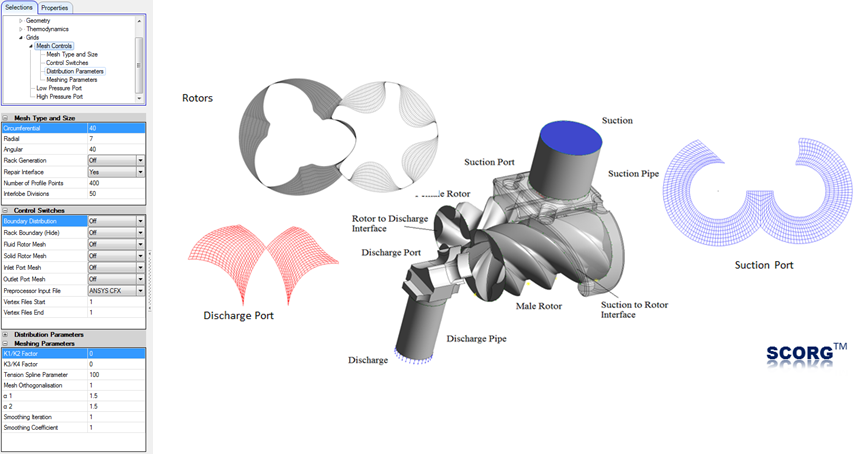 Deforming Rotor domain grids
Static Theoretical Port Grids
Direct connection to solvers like Pumplinx and ANSYS CFX